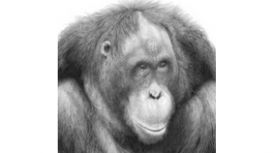 At Wildlife Sketches we retail black and white Fine Art Prints. We are based in Bournemouth, England. And we currently specialise in the pencil art of acclaimed wildlife artist David Dancey-Wood.
As I strolled along the high street, I felt the cold penetrate my clothing. Suddenly, a small shop, nestled snugly between the Pharmacy and the Optician, attracts my attention. Despite the February sunshine, I shiver as I stare at the object of my desire. Decision made, I enter the shop and a blast of comforting warm air greets me from above the doorway, offering reassurance to my uncertainty. Vince De Luca acknowledges my presence with a warm and welcoming smile, "Welcome to my shop." Vince appears to sense my discomfort, Please, take your time and if you have any questions just let me know. Would you like a hot drink while you browse? My name is Vince by the way. What? Oh yes, eh.
Vince replied, simultaneously reaching for the sketch. Yes.
---
Reviews and Ratings
We do not have any reviews about Wildlife Sketches available right now.