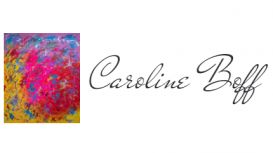 A controlled explosion of enamouring vitality combined with an innately stimulating ethereal relationship with expressive colours, Caroline Boff's pictorial conceptions heralds a powerfully direct connection to the artist's profound emotions and intimate experiences that are subtly shared with the viewer catalysed by the joyful energy encompassed in her art.
Caroline Boff is an emerging contemporary international artist. She fell in love with the arts when she did her degree at Bristol University. Caroline has had the courage to turn her passion into a full-time career. Boff has lived and worked in Long Island, New York; Cairo, Egypt and studied in Madrid, Granada and Barcelona in Spain. She has travelled extensively taking trips to Nepal, India, Malaysia and Thailand as well as to exotic holiday destinations such as the Maldives. Caroline is curious about cultures. She seeks out and paints various forms of paradise.
Caroline only paints and draws what she is passionate about, through joy, laughter or love, it has always touched her soul and her heart is always within every piece. She finds creating her artwork a meditative and relaxing experience, or conversely energising and releasing.
In general her work is medium to large scale, in acrylic paints on stretched canvas, in bright, vibrant colours. Boff uses other materials occasionally. The style of her painting varies.
Business Verification Status
Reviews and Ratings
Caroline is not only a wonderful, talented artist, but she is also a good businesswoman. She and I communicated several times before I made my purchase of one of her paintings. It really caught my eye and was the perfect combination of colours for my office. Now, it inspires me daily. Caroline puts her heart and soul into her selections of what to paint and then allows that heart and soul to emerge on the canvas. The end result is amazing. I feel very honoured to have my first authentic piece of artwork hanging in my home to be from Caroline Boff.
Thank you Caroline for this beautiful painting that enlightens our home! I really recommend Caroline's work and she is lovely at every step of the process. The shipping of the work is professional and quick! Thanks again.
I love the meaningful concepts and colourful palette throughout Caroline's work.