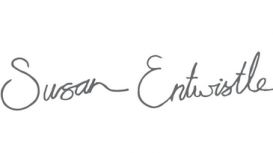 Susan Entwistle is one of the few pointillist painters practising their art. Her unique style of painting is created with layers of colourful dots to capture the vibrancy and essence of beautiful gardens, woodlands and landscapes. There are many similarities between creating a textile design that is aesthetically pleasing to the eye and creating a pleasing composition in a painting. The embroidered element of my textiles that were created in a 'painterly' fashion has easily evolved into the pointillist style I now use in my paintings.
Colour is all important in my work. I create the painting by building layers of coloured dots and marks using acrylic paints instead of threads to emulate a tapestry-like impression of my subject. The subject matter I am almost inevitably drawn towards is the natural environment, whether it is a landscape of woodland, a park or garden, or the trees and flowers within those landscapes.
---
Reviews and Ratings
We do not have any reviews about Susan Entwistle Art available right now.